Dr.-Ing. Franz Hauer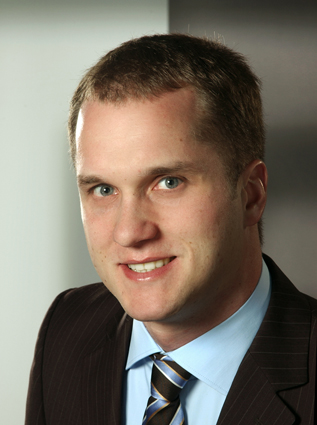 Friedrich-Alexander-Universität Erlangen-Nürnberg
Egerlandstraße 5
Tel.: +49 (0)9131 85 28516
Fax: +49 (0)9131 85 28503
Mail address: This e-mail address is being protected from spambots. You need JavaScript enabled to view it
Homepage at the Institute
Friction between tools and workpieces is an important parameter in forming processes. It strongly influences the quality of products and machine forces. Tailored surfaces are employed in order to influence the friction systematically. The aim of the project is to simulate the contact between tools and workpieces numerically and to form a constitutive friction law for tailored surfaces. Particular attention is drawn on surface roughness and lubricants. A special feature of forming processes is large contact pressure leading to plastic deformation of surface asperities, which has to be considered in the numerical model.
The elastic-plastic contact behavior of rough surfaces is modeled with a halfspace model, which needs only the surface of the sheet metal to be discretised, not the bulk like a Finite-Element model. Thus the numerical effort is much smaller in the halfspace model. The halfspace model is verified and calibrated experimentally. A friction law has been identified based on the numerical and experimental results. This friction law was implemented into Simufact.forming as a user subroutine and is thus available for forming simulations.
Projects
Working Groups
Publications
2015
Beyer, F.; Hauer, F.; Willner, K.: Development of a Constitutive Friction Law based on the Frictional Interaction of Rough Surfaces37(2015)4, pp. 400-412
2014
Hauer, F.: Die elasto-plastische Einglättung rauer Oberflächen und ihr Einfluss auf die Reibung in der Umformtechnik. In: Schriftenreihe Technische Mechanik, 12(2014), published
2013
Hauer, F.; Willner, K.: Development of a friction law respecting plastic surface smoothing. In: Key Engineering Materials (Edt.): 554(2013), Durnten - Zurich: Trans Tech Publications Ltd, pp. 1471-1477
2012
Breitsprecher, T.; Hense, R.; Hauer, F.; Wartzack, S.; Biermann, D.; Willner, K.: Acquisition of heuristic knowledge for the prediction of the frictional behavior of surface structures created by self-excited tool vibrations. In: Key Engineering Materials, 504(2012), Trans Tech Publications, pp. 963-968
Hauer, F.; Willner, K.: Halfspace Simulation of Rough Surface Contact in Metal Forming. In: Proc. 10th World Congress on Computational Mechanics, ISBN 978-85-86686-70-2, (2012), published on CD
2011
Hauer, F.; Vierzigmann, U.; Willner, K.; Engel, U.: Numerical simulation of friction in metal forming using a halfspace model. In: AIP Conference Proceedings, The 14th International ESAFORM Conference on Material Forming Esaform 2011, doi: 10.1063/1.3589482, 1353(2011), pp. 1741-1746
Hauer, F.; Willner, K.: Elastic-plastic halfspace simulation. In: Proceedings of the 82st Annual Meeting of the International Association of Applied Mathematics and Mechanics, doi: 10.1002/pamm.201110101, (2011), pp. 219-220
Hauer, F.; Willner, K.: Halfspace modeling of elastic-plastic contact of rough surfaces. In: Computational Plasticity XI - Fundamentals and Applications, COMPLAS XI, (2011), pp. 965-975
Breitsprecher, T.; Hense, R.; Hauer, F.; Biermann, D.: Akquise von heuristischem Wissen für die Prädiktion von Oberflächenstrukturen beim Fräsen mit regenerativen Werkzeugschwingungen. In: DFG SFB TR 73 (Edt.): Tagungsband zum 1. Erlanger Workshop Blechmassivumformung 2011, (2011), pp. 77-96
2010
Hauer, F.; Willner, K.: Normal contact simulation of non-Gaussian fractal surfaces. In: Proceedings of the 81st Annual Meeting of the International Association of Applied Mathematics and Mechanics, doi>10.1002/pamm.201010198, 10(2010), pp. 411-412
Presentations
2012
14.03.2012: Breitsprecher, T.; Hense, R.; Hauer, F.: Acquisition of heuristic knowledge for the prediction of the frictional behavior of surface structures created by self-excited tool vibrations, ESAFORM 2012, Erlangen
11.07.2012: Hauer, F.; Willner, K.: Halfspace Simulation of Rough Surface Contact in Metal Forming, 10th World Congress on Computational Mechanics, Sao Paulo, Brasilien
2011
21.04.2011: Hauer, F.; Willner, K.: Elastic-plastic halfspace simulation, GAMM 2011, Graz, Österreich
28.04.2011: Hauer, F.; Vierzigmann, U.; Willner, K.; Engel, U.: Numerical simulation of friction in metal forming using a halfspace model, ESAFORM 2011, Belfast, UK
17.06.2011: Willner, K.; Hauer, F.: A fully plastic halfspace formulation for the contact of rough surfaces, Hannover
25.07.2011: Willner, K.; Hauer, F.: A fully plastic halfspace formulation for the contact of rough surfaces, Minneapolis, MN
08.09.2011: Hauer, F.; Willner, K.: Halfspace Modeling of Elastic-plastic Contact of Rough Surfaces, XI International Conference on Computational Plasticity, Barcelona
2010
23.03.2010: Hauer, F.; Willner, K.: Normal contact simulation of non-Gaussian fractal surfaces, GAMM 2010, Karlsruhe
18.05.2010: Hauer, F.; Willner, K.: Elastic-plastic contact simulation using halfspace theory, ECCM 2010, IV European Conference on Computational Mechanics, Paris